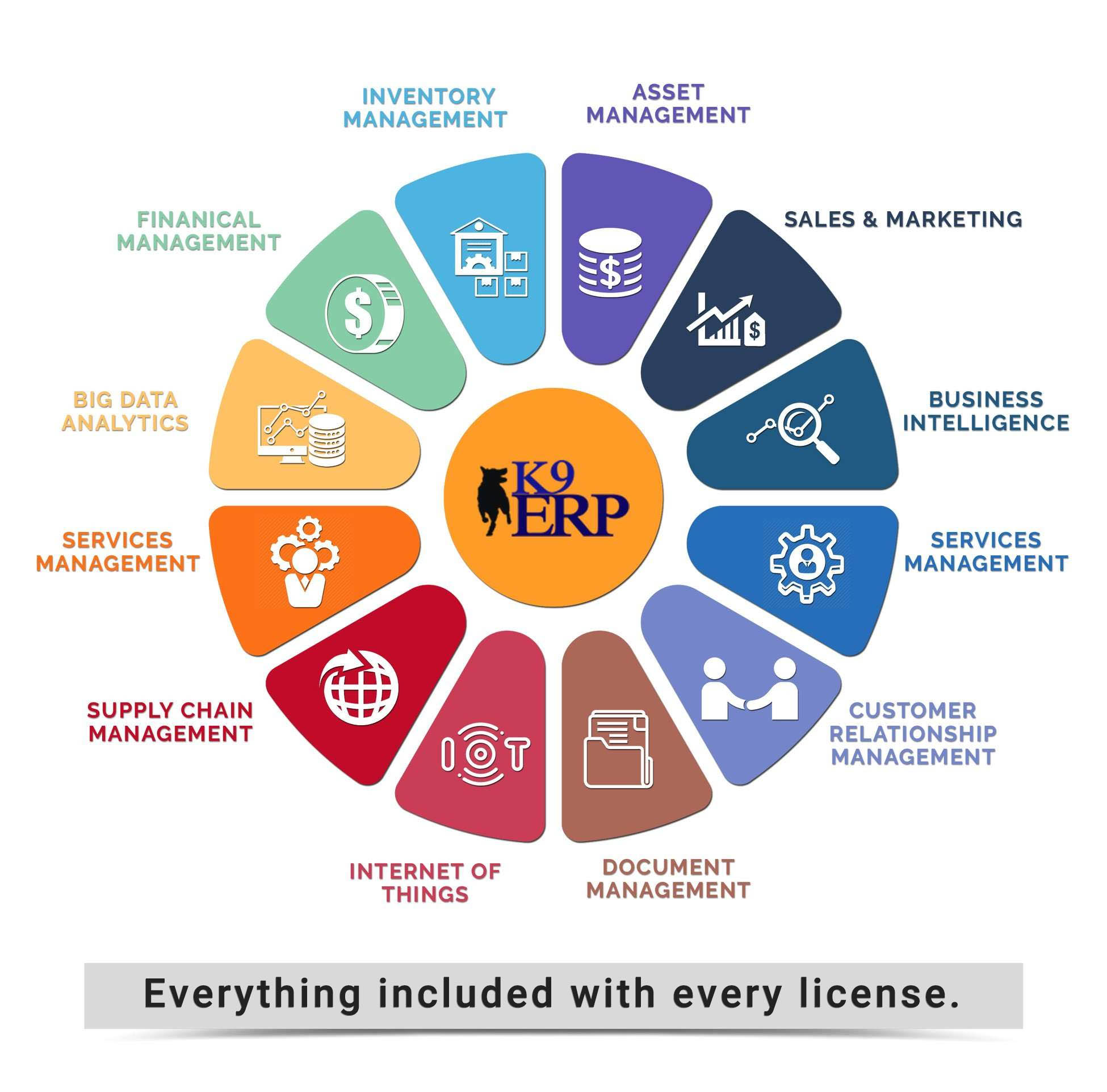 K9ERP – Authorized Partner
K9ERP is an Enterprise Resource Planning cloud software package that delivers adaptable cloud and mobile technology with an all-encompassing user license. K9ERP includes all the applications a business needs to effectively manage everything: Financials, Inventory, Distribution, Accounting, Document Management, Service Contracts, CRM, POS and more. With always available, real-time access, management has complete oversight any time from any where. K9ERP was created and is continuously evolving so small businesses have everything they need to prosper.
Solutions Offered by K9ERP
Cloud ERP
Access anytime, any where
K9ERP is a fully cloud-based, complete business management software with accounting, inventory control and everything else you need to run your business, easily accessed anytime, from anywhere.
Easy to start
Weeks, not months
Customers told us, even though they wanted full accounting and inventory control software, one reason they didn't get software was it seemed too hard to get started, it would make them change their work process or would be time-consuming and tedious. K9ERP's start up process is fast, easy to follow and walks you through how to customize the software to fit your existing business processes.
Secure
Data protection
Would you enter an office with a German Shepherd ready to attack the second you open the door? We built security into K9ERP that is the equivalent of a permanent K9 Unit guarding your company's information.
Made in the USA
100% US-based team
Our team is made up of local professionals with extensive experience in programming, development, ERP software systems, accounting and general business management. We have channeled that expertise into our Florida, US based team, focused on creating the most effective business management software with accounting that can help any business grow and succeed.
More than Responsive
K9ERP is a Fully responsive ERP system that adapts to all the mobile devices whether its PC, Macbook, Laptop, Tablet or even your handheld Mobile devices. Stay updated with all the necessary information on the go with K9ERP.